Oppo Realme 6i
Oppo Realme 6i features, we have provided information on price-performance evaluation by addressing your questions about product review.
Realme 6i, which is claimed to offer 12 hours of gaming and 29 hours of talk time, and which is also allegedly said to have around 20 hours of online video playback time, was caught on the radar of our review team.
Although we will not examine the device in the duration of these time values, we will try to confirm how true these claims are from performance-based details.
Oppo Realme 6i Features
The most prominent Oppo Realme 6i features and technical details are as follows;
6.5-inch screen size
HD+ screen resolution standard
720 x 1600 HD+ pixel screen resolution
IPS LCD screen technology
60 Hz screen refresh rate
Corning Gorilla Glass 3+ screen durability
Touch capacitive touch technology
81.56% screen-to-body ratio
5000mAh built-in battery capacity
18W fast charging feature
270 PPI screen pixel density
MediaTek Helio G80 chipset
8 core CPU
5GB of RAM
128GB Internal storage
Expandable memory up to 256GB with memory card support
48 MP main camera (HDR, Portrait mode, panorama, autofocus, geotagging etc.)
8 MP secondary rear camera with f/2.3 extra wide angle
F/2.4 macro shooting 2 MP third rear camera
F/2.3 Bokeh depth perception 2 MP fourth rear camera
F/2.0 30fps 16MP front camera
Blue, white, and green color options
Android 10 (Q) operating system
FM Radio
2.5mm audio output
Fingerprint reader
Dual SIM card feature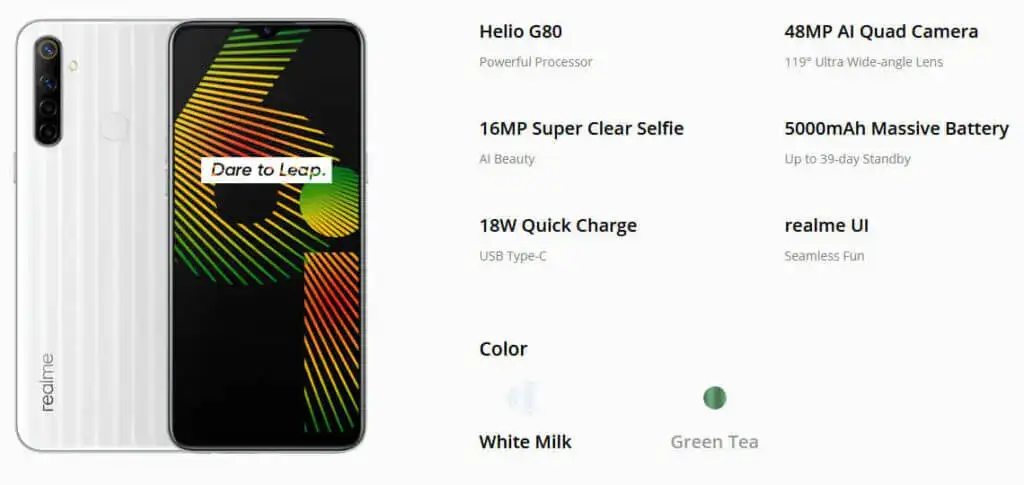 Oppo Realme 6i Review
After giving information about the Oppo Realme 6i features, let's move on to the review of the device.
Oppo Realme 6i is among the smartphones that are assertive in terms of battery performance. Capturing up to 20 hours of online video playback and over 29 hours of talk time for the 5000 mAh can be significantly possible when its overall features are throttled. However, in order to achieve these times, it is important that the device is especially new.
It does not seem possible to catch these time values after 6 months of use on the Oppo Realme 6i device, as in every other device. Speaking of batteries, it should be said that the capacity of the device is at a decent level for average uses, considering the features of the device. Let us remind you that there are many phone models in this class under 5000 mAh.
We expected the device to offer more features in terms of screen resolution. Both the screen resolution and the pixel density could offer something little more, compared to its camera and battery features.
When we examine it in terms of design, we can mention that the phone without a frame offers a nice appearance. It is an appropriate design choice.
If we come to the camera part, we see that the rear and front cameras are ideal for a phone in this class, allowing us to take clear images. You can reach the clarity that will meet your expectations for photo and video shooting.
When the price and features are compared, it seems to be a decent phone. Especially considering their price a few months ago, it is a reasonable device on the basis of price/performance. However, we see a drastic increase in current prices compared to the past few months.
Huawei P40 Features. Maybe you can keep reading.