UMTPro
UMTPro UltimateMTK is here with its new version v4.5. So what's new in this new version?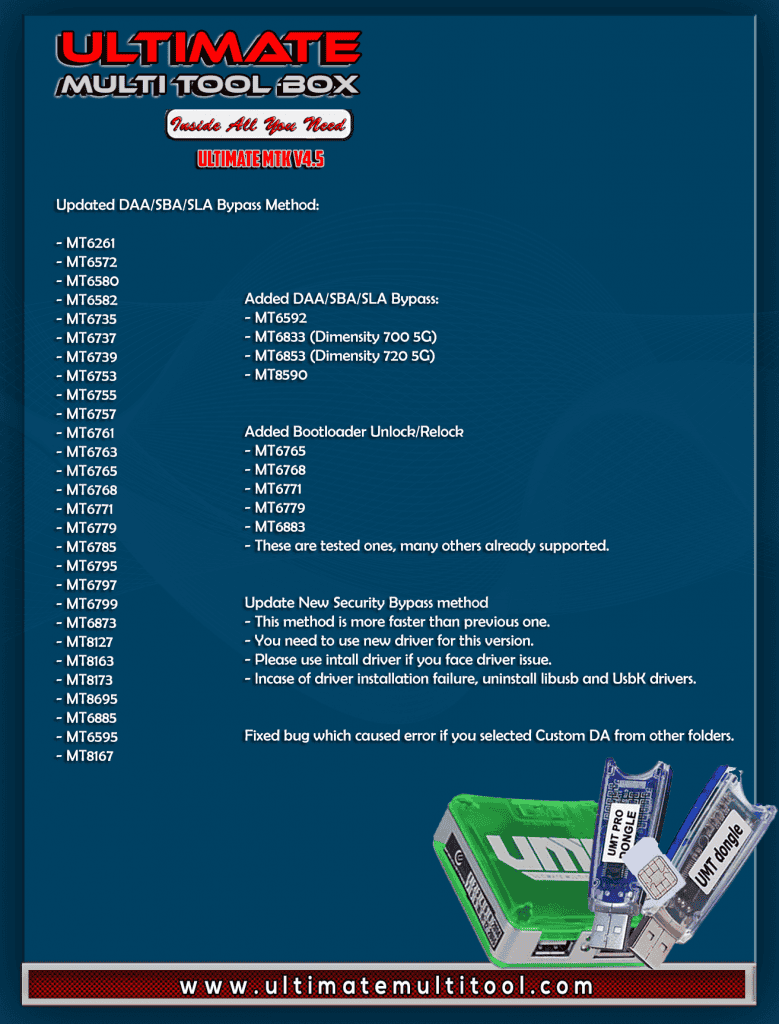 Supported functions:
Read Info
Reset FRP (For devices supporting this feature)
Reset Locks (All Android Versions, Encrypted Userdata NOT Supported)
Read Pattern (Android 5.x and earlier, Encrypted Userdata NOT Supported)
Format FS
Format FS (Advance)
Added Support for Helio CPU (MT6750, MT6755, MT6763, MT6739 etc)
Backup NVRAM
Restore NVRAM
Reboot to META / FACTORY / FASTBOOT Mode
Added Support for Helio X20 (MT6797)
Disable Lock / Restore Lock for Encrypted Userdata
Remove Locks for Encrypted Userdata for Vivo
Factory Reset in META Mode (Vivo, Oppo and others)
SafeFormat Option to let device format itself safely in recovery
Repair in META / Boot Mode
Oppo/Realme Safe Factory Reset in META Mode
Added Disable Auth to disable SLA/DAA
Added Mi Account Reset
Xiaomi IMEI Repair
NVRAM/NVDATA Format
MTK One Click Function Added
META Reboot for SLA Enabled Devices
Added Bootloader Unlock / Relock
Crash Preloader Added
Added More Options in MTK One Click
Added:

MTK One Click
– No need to select any model.
– No need to select any DA/preloader.
– Simply tick the required options and execute.
You can check this page. UMTPro QcFire v7.3 Released