How to FRP for Samsung Galaxy A10s (SM-A107F) ?
Samsung SM-A107f model has a MediaTek Helio P22 (MT6762) processor. For mtk, you need a program that supports the mtk processor. For this process, we need the umt mtk tool program.
Run mtk tool. Go to the Mtk one-click tab, select the Reset FRP option and start the execute job. While the phone is off, press the volume + – keys together and plug in the USB cable. The program will find the device and complete the process in a very short time. After the operation, FRP will be reset.
In the same way, you can do FRP on other models with mtk processor. This process has been applied to the sm-a107f model.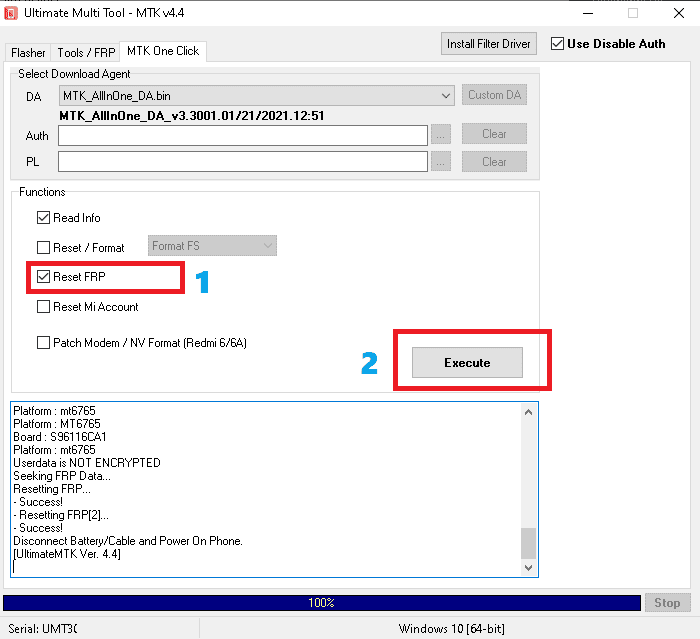 SM-A107f end-of-process log.
Operation: MTK One Click
Hold VOL UP + DOWN and connect USB Cable.
Some phone may have different key combination for BROM mode.
Waiting for device in BROM mode…
Port: COM118
Port Name: MediaTek PreLoader USB VCOM (Android) (COM118)
Path: \?\usb#vid_0e8d&pid_2000#6&ed9a0d5&0&4#{86e0d1e0-8089-11d0-9ce4-08003e301f73}
Preloader Mode Detected, Trying to crash…
– Success!
Port: COM12
Port Name: MediaTek USB Port (COM12)
Path: \?\usb#vid_0e8d&pid_0003#6&ed9a0d5&0&4#{86e0d1e0-8089-11d0-9ce4-08003e301f73}
Chipset: 0x0766, [MT6765]
Hardware Info: 0x8A00, 0xCA00, 0x00
SecureBoot: True
SLA: False
DA Auth: True
Disabling WatchDog…
– Success
Sending Payload data…
– Payload sent
Initiating Control Transfer…
– Done
Waiting for result…
Disable Auth Success
Preloader saved as: preloader_s96116ca1_210716_152414.bin
DA: MTK_AllInOne_DA.bin
Waiting for Phone in Flash Mode…
Connect Power Off phone within 30 secs…
Port : MediaTek USB Port (COM12)
Connected to BROM.
Sending Download Agent…
connect DA end stage: 2, enable DRAM in 1st DA: 0
Connected to Download Agent..
Syncing with Target…
Reading Partition Table…
Storage : eMMC
Reading Device Information…
Build Date: Mon Jun 14 10:27:09 KST 2021
Build Flavor: a10sxx-user
Build Desc. : a10sxx-user 10 QP1A.190711.020 A107FXXU8BUF1 release-keys
Android Ver. : 10
Display ID: QP1A.190711.020.A107FXXU8BUF1
Patch Level: 2021-04-01
Platform: MT6765
Board: S96116CA1
Platform: mt6765
Platform: MT6765
Board: S96116CA1
Platform: mt6765
Userdata is NOT ENCRYPTED
Seeking FRP Data…
Resetting FRP…
– Success!
– Resetting FRP[2]…
– Success!
Disconnect Battery/Cable and Power On Phone.
[UltimateMTK Ver. 4.4]
If you need MTK driver, You can check this page. MediaTek USB Driver & Libusb