It is a tested eng rom for Redmi 9T model with locked bootloader. With this eng rom, you can perform many actions even if the phone has the bootloader unlocked.
What is Eng Rom?
Eng rom is the short for "Engineer Rom". As the name suggests, this rom is used during production to test the device and measure its performance. This rom is not suitable for the end-user. It is not suitable for daily use as there are no security measures in the Rom. Do not forget to install Stock rom after you are done with the Rom.
How to Install Eng Rom?
There are two ways to install the Engineer Rom. If the bootloader is unlocked, the installation will be a little easier. You can install it quickly in fastboot mode.Turn off the phone. While holding the volume down button, plug the usb cable into the phone. When you see the Fastboot logo on the phone's screen, that means the phone is ready. You need mi flash tool to install fastboot eng rom. With the Mi flash tool, you can install any compatible rom you want on xiaomi or redmi models with unlocked bootloader.
Another way is to install Eng Rom with EDL mode.For Edl mode, you need to open the back cover of the phone and reach the motherboard. Touch the 2 test points, which you will see in the image below, with a conductive tool such as tweezers, and simultaneously connect the USB cable to the phone. Follow the ports section in device manager.You will see that the phone is connected in Qualcomm 9008 mode.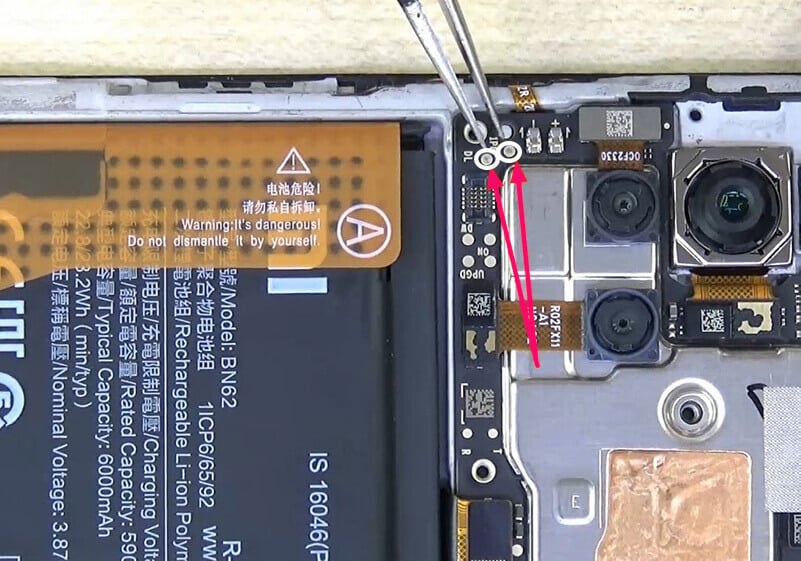 You need programs like QcFire to perform the installation with edl mode. There is a qualcomm flasher tool as a free tool, but we cannot show it as a reference because we have not used this program before. We do not possess first hand experience with it.

Eng rom is not stable like stock rom. It can cause problems in some unknown situations. Before we shared this rom, we tried it on a working Redmi 9T Lime model and did not encounter any problems. Our site is not responsible for any problems that may occur during or after installation. The end user performing the installation has read and accepted the warnings.
You can download the Eng Rom we shared for Redmi 9T Lime from here; Download