Apple announces the new iPhone SE 3
Apple announces its new affordable iPhone SE 3. The cheapest iPhone with 5G support is reviewed in this article with its price and features. The most anticipated model of the Apple Peek Performance event was surely the iPhone SE. Although the officially introduced smartphone has been renewed, it is unfortunate to see the device keeps its old design.
The famous company uses the same design style they used in iPhone SE (2020). So there's a Home button with thick frames and a Touch ID fingerprint scanner on the device. We can say that it is quite similar to its predecessor in terms of external appearance. The glass used on the front and back is the same as on the back of the iPhone 13 Pro and iPhone 13 and is known as the most durable glass in a smartphone.
The device, which is water and dust resistant thanks to its IP67 rating, is designed to protect against liquid spills. The iPhone SE 3 has a 4.7-inch LCD display with IPS technology. The Retina HD panel comes with a density of 326 PPI and a resolution of 1334 x 750 pixels. In addition, we should point out that, the device stands out with its 625 nits maximum brightness value.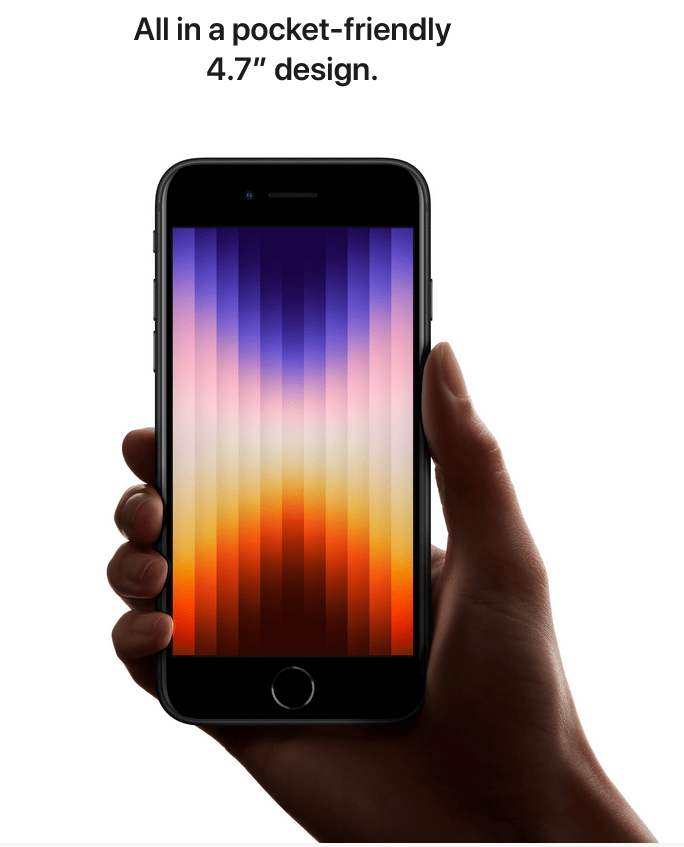 A15 Bionic chip and 5G support
The iPhone SE 3 takes its power from the A15 Bionic chipset. As you know, this processor also powers the iPhone 13 series. The A15 Bionic has a powerful 6-core CPU, which includes two high-performance cores and four high-efficiency cores, making it the fastest CPU in a smartphone. This makes iPhone SE 1.8 times faster than iPhone 8 and much faster compared to older models.
The 16-core Neural Engine, which can perform 15.8 trillion operations per second allows faster machine learning processes in third-party applications, as well as features such as Live Text and in-device dictation in the Camera application with iOS 15 on iPhone SE. Every process is fluid with the A15 Bionic which is a chip that's perfect for photography, gaming, and augmented reality experiences.
One of the most noticeable new features of the smartphone is that it now supports 5G. By supporting 5G the device now closed the gap in that field. Despite having new technologies such as 5G and a compact form, the iPhone SE offers longer battery life than the previous generation and 4.7-inch iPhone models. iPhone SE also supports fast charging and it is compatible with Qi-compatible fast chargers.
iPhone SE offers outstanding computational photography features such as Smart HDR 4, Photographic Styles, Deep Fusion and Portrait Mode, thanks to its wide 12-megapixel camera with f/1.8 aperture. Smart HDR 4 feature which was introduced with iPhone 13 Pro and iPhone 13, uses smart segmentation technology to apply different color, contrast, and roughness settings to the subject in front of the background. Thanks to this new feature, it can accurately pose faces even in challenging lighting conditions. It also renders separately for each person in the photo, with individual settings optimized for the light and skin color of each person.
Photographic Styles enables users to apply their own personal photographic preferences to each image by utilizing Apple's multi-frame image processing technology. Preferences and specialized settings function much more differently from simple filters, intelligently apply the right adjustments to different parts of the photo, applying on all scenes and subjects preserves important features like; skin tones.
The Deep Fusion feature, which can process the photo pixel by pixel thanks to advanced machine learning, optimizes the texture, detail, and roughness in every area of ​​the photo. The image signal processor in the A15 Bionic reduces noise, especially in dim light, to deliver much more advanced videos with better white balance and skin tones closer to real.