Remove Frp Huawei Y5 2019
I will talk about wiping FRP Huawei Y5 2019 Amn-lx9 with MediaTek Helio A22 (MT6761) processor. This may be a little easy since it has an mtk processor.
To remove Frp Huawei Y5 2019, We need any mtk tool. But sometimes not all tools can do this job.
In recent years, mobile phone users have another new problem. This problem is forgotten mail accounts and passwords. We will use the umt mtk tool to solve this problem.
The process is very easy, Run the umt mtk tool, Go to the "Mtk one-click" section. Tick reset FRP from the options below. Start the process with the Execute button. Now, the umt mtk tool is ready to remove FRP. Turn off your phone, we need to perform the Test Point operation in the image below. Touch the test points in the image with the help of tweezers and at the same time plug in the USB cable. The program detects the phone and removes FRP in seconds.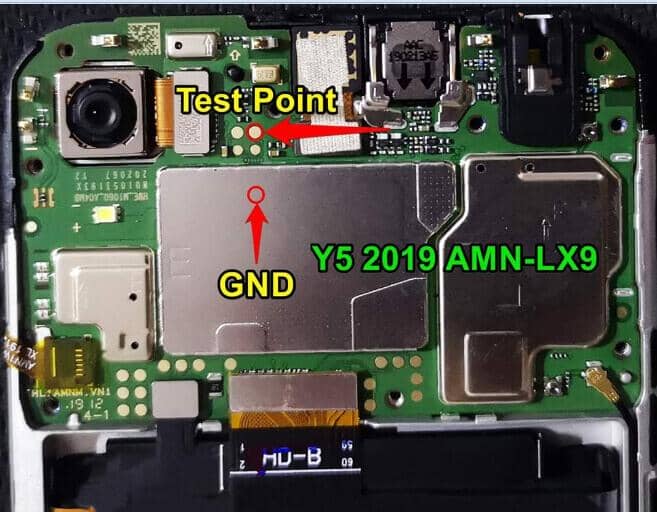 This is program logs,
Operation: MTK One Click
Hold VOL UP + DOWN and connect USB Cable.
Some phones may have different key combinations for BROM mode.
Waiting for the device in BROM mode…
Port: COM19
Port Name: MediaTek USB Port (COM19)
Path: \?\usb#vid_0e8d&pid_0003#5&2effdc72&0&1#{86e0d1e0-8089-11d0-9ce4-08003e301f73}
Chipset: 0x0717, [MT6761]
Hardware Info: 0x8A00, 0xCA01, 0x200
SecureBoot: True
SLA: False
DA Auth: True
Disabling WatchDog…
Success
Sending Payload data…
Payload sent
Initiating Control Transfer…
Done
Waiting for result…
Disable Auth Success
Preloader saved as : preloader_k61v1_64_mexico_211217_124016.bin
DA : MTK_AllInOne_DA.bin
Waiting for Phone in Flash Mode…
Connect Power Off phone within 30 secs…
Port : MediaTek USB Port (COM19)
Connected to BROM.
Sending Download Agent…
connect DA end stage: 2, enable DRAM in 1st DA: 0
Connected to Download Agent..
Syncing with Target…
Reading Partition Table…
Storage : eMMC
Reading Device Information…
Unable to read!
Userdata is ENCRYPTED
Seeking FRP Data…
Resetting FRP…
Success!
Disconnect Battery/Cable and Power On Phone.
[UltimateMTK Ver. 4.4]
Umt Mtk Tool Support Forum