Oppo Reno 4 Lite Frp
After the phone is reset, it asks for the old email address and password to be entered on the setup screen. We are here with a new FRP reset topic. Here we will explain how to reset Oppo Reno 4 lite frp.
For Oppo reno 4 lite FRP, we needed any mtk tool. But not every tool can solve the FRP problem. We talked about the egsm tool heretofore. Egsm Tool is an effective tool on mtk devices.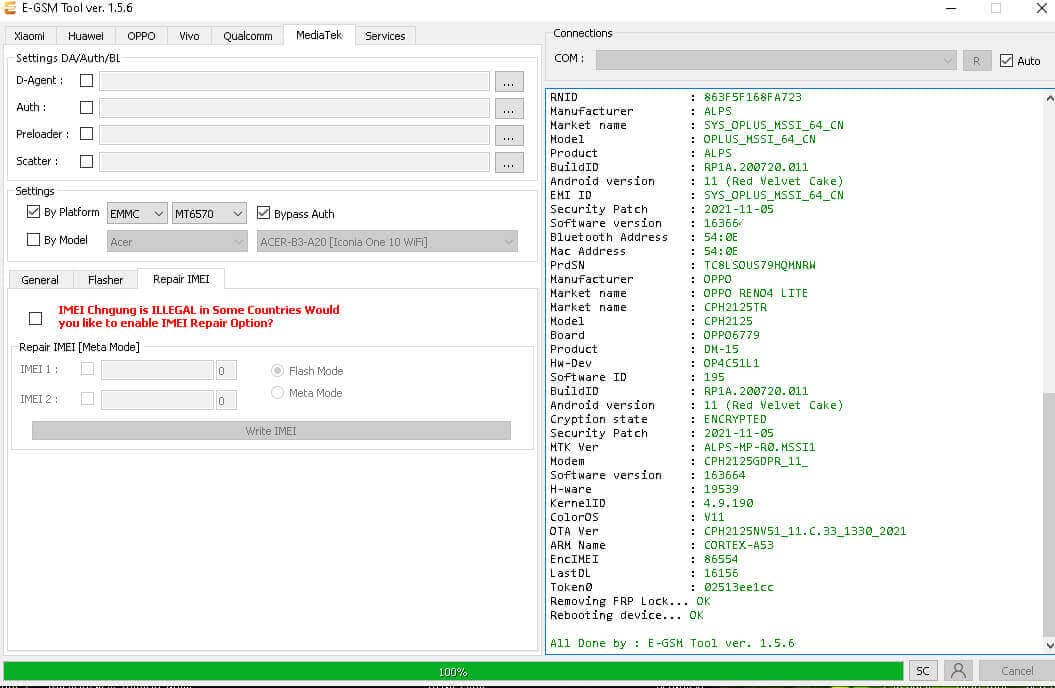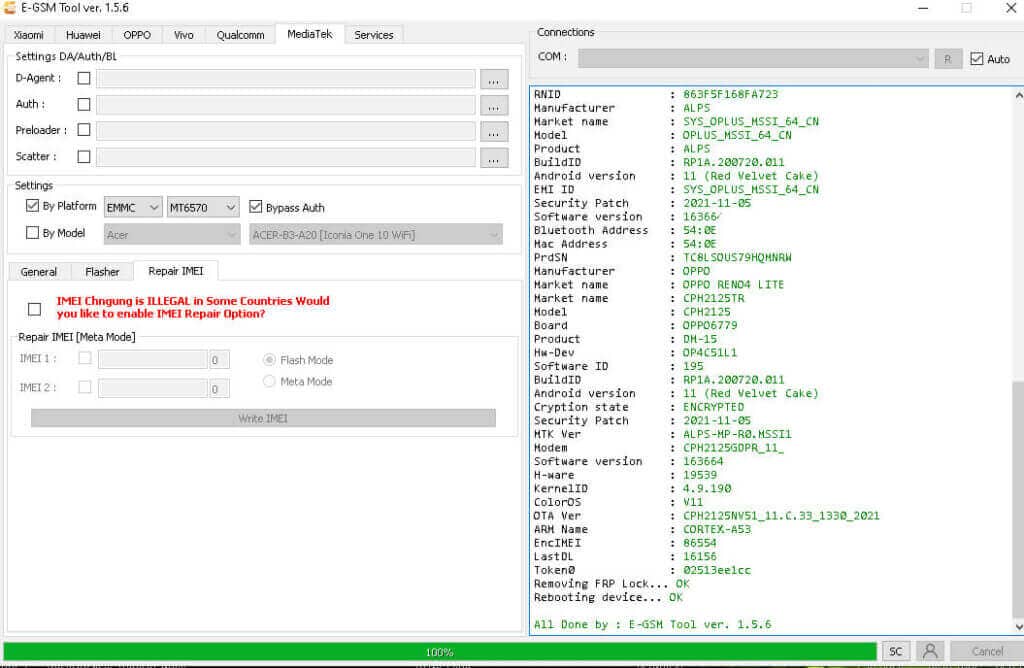 Processing instruction
Turn off your phone. Run The egsm tool. Go to the "Mediatek" section. Press the Remove FRP button, Program is ready to remove FRP. Now While pressing the Volume down and volume up keys, plug the USB cable into the phone. The program detects the phone and removes the FRP partition.
We applied this process and the process was completed successfully.
Here are the logs of the program.
Operation          : Remove FRP
Phone Mode         : Flash Mode
Downloading data from server... OK
Unpacking data... OK
Waiting for mtk usb device... OK
BootMode      : BootRom[COM71]
USB Driver    : wdm_usb:10.0.19041.1202:06/21/2006
Port Name     : MediaTek USB Port (COM71)
Brom Reconfiging... OK
Storage-Info        : 0725|8A00|CA01|0000
Chipset             : MT6779
Chipset ID          : Helio P90
BR_MEID             : 0x178F378875A677
SOCID1              : 0xB8CB8CF750055
SOCID2              : 0x63C6F2EE11C77
BROM sec config     : 000000E5
BROM sec info       : SBC:Yes:SLA:No:DAA:Yes
Skipping to watchdog... OK
Sending security registers... OK
Uploading certificate... OK
Installing LIBUSB drivers...
Sending usb control data... OK
Executing certificate... OK
Manufacturer        : OPPO
Market name         : OPPO RENO4 LITE
Market name         : CPH2125TR
Model               : CPH2125
Board               : OPPO6779
Product             : DM-15
Hw-Dev              : OP4C51L1
Software ID         : 19539
BuildID             : RP1A.200720.011
Android version     : 11 (Red Velvet Cake)
Cryption state      : ENCRYPTED
Security Patch      : 2021-11-05
MTK Ver             : ALPS-MP-R0.MSSI1
Modem               : CPH2125GDPR_11_C.33_2021111200050000
Software version    : 1636657887
H-ware              : 14239
KernelID            : 4.9.190
ColorOS             : V11
OTA Ver             : CPH2125NV51_11.C.33_1330_2021
ARM Name            : CORTEX-A53
EncIMEI             : 86500000
LastDL              : 16401620
Removing FRP Lock... OK
Rebooting device... OK
E-Gsm tool homepage.