What is the Borneo Schematics
Borneo Schematics is software for mobile phone repair. The software was designed to be very intuitive, easy to learn, and very efficient for both the novice and the expert technicians. Borneo Schematic is very effective for you, novice or expert technicians to improve your work performance.
BORNEO SCHEMATICS NOW EMBEDDED WITH IC COMPATIBLE DATABASE (PCD 1.0)!

PCD ( Part Compatible Database ) helps users easily find ICs compatible from one board to another board. As simple, you select the original part on the layout board and then Borneo Schematics will guide you to a compatible part on another board. Make your work easier.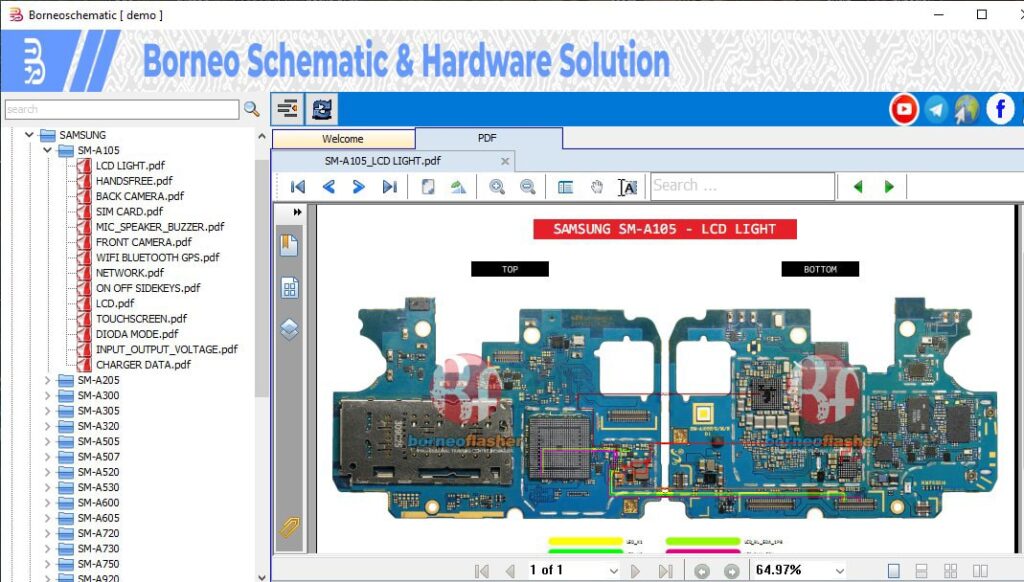 Update Notes:
PCD Part Compatible Device 1.0 Beta
PCB Trace Mode On Bitmaps
Char limitation & register issue Fix
UPDATE BORNEO SCHEMATICS
VERSION 2.3.0 Patch 0103 have been released
First, You should uninstall the old version.
Download 2.3.0 Patch 0103
Just Click Auto Update on Your Application
Download Link: Borneo Schematics Version 2.3.0
Galaxy F02s SM-E025F/DS test point Another rootgsm article.