Samsung Galaxy S20 FE
Samsung Galaxy S20 FE; we researched for you the features and review, along with all the details about the price of the device.
We think that the technical details we have reached after the physical examinations of the device will help those who have not made up their mind yet about buying the Galaxy S20 FE.
Samsung Galaxy S20 FE Features
In general, the Samsung Galaxy S20 FE features are;
6.5-inch screen
Super AMOLED display technology
407 PPI screen pixel density
120 Hz screen refresh rate
1080 x 2400 FHD+ pixels screen resolution
Corning Gorilla Glass 3 screen durability
Capacitive touch screen technology
85.52% screen-to-body ratio
Built-in battery with 4500mAh capacity
25W fast charging feature
12 MP, F/1.8 aperture main camera with LED Flash
12 MP, F/2.2 extra wide-angle secondary rear camera
8 MP, F/2.4 telephoto third rear camera
32MP F/2.2 60fps front camera
Android 11(R) operating system
5.0 Bluetooth technology
wifi 6
IPX8 water-resistant technology
IP6X dustproof technology
Virtual proximity, ambient light, accelerometer, compass, gyroscope and Hall sensors
Fingerprint reading technology built into the screen
Dual SIM card support
White, orange, green, blue, red and purple color options
6GB of RAM
128GB internal memory
190 grams weight
Expandable memory up to 1TB
NFC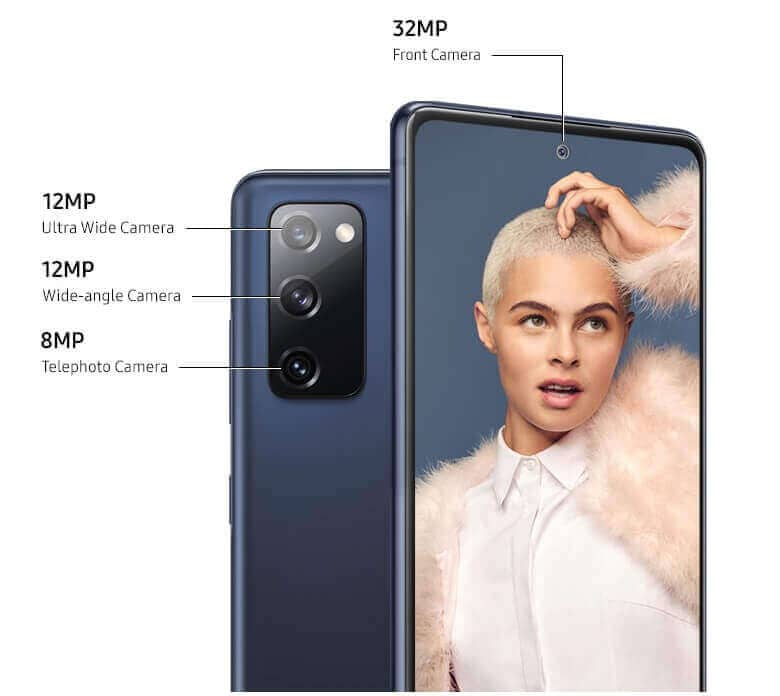 Samsung Galaxy S20 FE Review
We can easily say that the camera features of the device are behind the phones in its class. Although it has cameras that you can get clear images, there are many devices that give higher quality images within this price range. If your priority is the camera, we recommend that you do a detailed on-site inspection before buying the phone.
The battery capacity is kept at a sufficient level according to the features of the device. But if you like to play games intensely on smartphones, we advise you to consider if the battery capacity is sufficient for you. The fact that fast and wireless charging features are offered makes the device more preferable, although nowadays it is a certain standard.
Water and dust resistance technologies are now offered as standard in many new generation smartphones. However, it should be noted that these features are still not available on many devices.
We see that the device memory and RAM space are at a sufficient level. In particular, the support for expandable memory up to 1 TB is the most striking feature among the Samsung Galaxy S20 FE features.
Samsung Galaxy S20 FE, which performs well while playing games or watching videos without sacrificing quality, welcomes us as a mid-segment device that can be purchased on a price-performance basis.
Samsung Galaxy S20 FE price: It is around $349.99 on average.
Samsung Galaxy Tab S7 Features. Another rootgsm.com page.