Table of Contents
We are delighted to introduce UMTv2 / UMT Pro, a cutting-edge, intelligent solution. The developers of UMT Pro released version 8.6 of the QcFire program on January 2nd, 2023.
What is UMTPRO QcFire
UMTPro QcFire v8.6 is a software tool for repairing and unlocking various Android devices. It provides a comprehensive solution for unlocking mobile phones and fixing software issues, making it an essential tool for mobile technicians and enthusiasts.
The software supports various devices from different manufacturers, including Samsung, Huawei, LG, and Xiaomi. It has a user-friendly interface makes it easy to use, even for those unfamiliar with technology. With its advanced algorithms, UMTPro QcFire can quickly diagnose and repair software issues, ensuring a fast and reliable solution.
One of the critical features of UMTPro QcFire v8.6 is its ability to unlock various Android devices, including those locked to specific carriers. With its powerful unlocking capabilities, users can easily unlock their devices and switch to any carrier they want. This feature makes it popular for users who wish to switch carriers, travel abroad, or sell their devices.
In addition to unlocking and repairing devices, UMTPro QcFire provides other valuable features, such as flashing firmware, removing screen locks, and backing up data. It also supports a wide range of languages, making it accessible to a global audience.
In conclusion, UMTPro QcFire v8.6 is a comprehensive software tool that offers a one-stop solution for repairing and unlocking Android devices. Its user-friendly interface, advanced algorithms, and wide range of features make it a must-have tool for mobile technicians and enthusiasts. Whether you need to unlock your device, repair a software issue, or back up your data, UMTPro QcFire has you covered.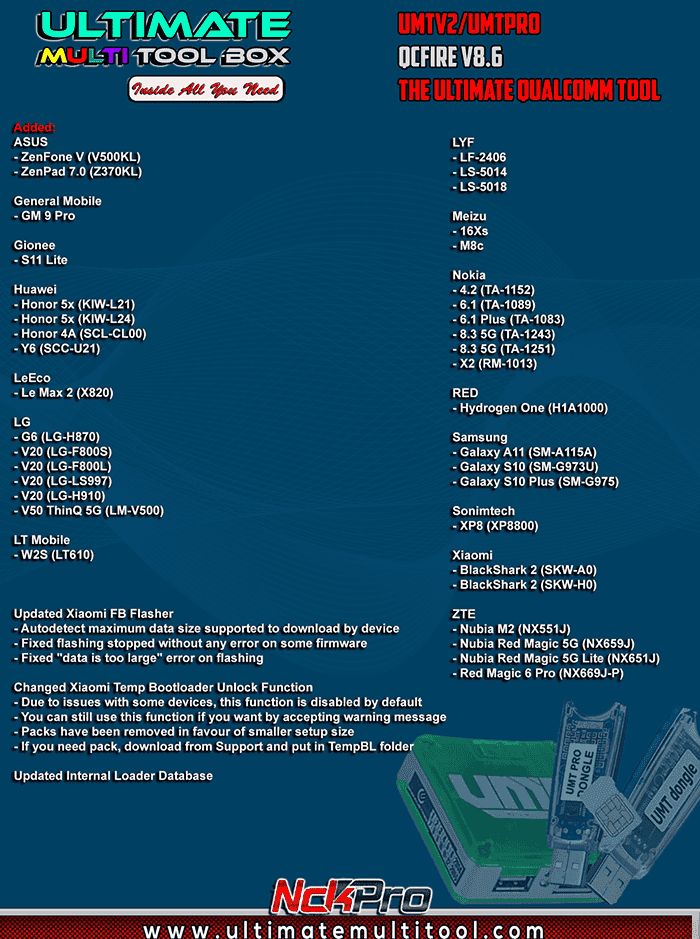 QcFire v8.6
The Ultimate Qualcomm Tool
Supported Functions
– Read / Write Firmware
– Backup / Restore QCN
– Repair in FTM/Diag + Flash Mode
– Backup / Reset / Restore Security (EFS)
– Reset FRP (Google Factory Reset Protection)
– Enable Diag (Need OEM Unlock, May not work on BL Locked Devices)
– Reboot to EDL from Fastboot
– Reset Mi Account for Xiaomi Devices
– Disable Mi Account for Xiaomi Devices
– Factory Reset (sideload Mode) for Xiaomi Devices
– Disable / Restore Locks for Encrypted Userdata
– Xiaomi EDL Locked Device Service
– Bootloader Unlock in EDL Mode for some Xiaomi Devices
– One Click Root in EDL Mode for Generic Qualcomm Devices
– One Click Lock Reset for Vivo Phones (Encrypted Userdata)
– EDL Authentication using Xiaomi Auth App (Service Account Required)
– Xiaomi Wipe EFS in Sideload Mode
– Xiaomi Repair for RSA Protected Phones
– Xiaomi Boot Loader Unlock
– Unique Method for Vivo Reset Locks for Protected Devices
– Xiaomi EDL Auth Using UMT Server
– Xiaomi Flashing in Fastboot Mode
– Nokia Factory Firmware (nb0) Direct Flashing in EDL mode
– Oppo OFP Firmware Exctration Added
– Xiaomi Free Auth Service (bypass).
– Mi Account Reset without Relock
– Samsung MDM Unlock in EDL Mode
– Huawei ID Reset
– Vivo Functions in Fastboot Mode
– Universal Huawei ID Reset
– Xiaomi Sideload Reset FRP/Mi Account
– Xiaomi Sideload Firmware Update
– Xiaomi Temporary BL Unlock – NEW!!!
– Xiaomi Enable Diag (NO ROOT) – NEW!!!
Please use UMT Card Manager to Update Card Counter / Firmware / Activate Add-on, available via Support Access.
If you dont have UMT Pro dongle, You can buy here .