Table of Contents
The software file obtained through EFT Pro for the CASPER VIA E30 phone is a backup of its stock ROM. This backup encompasses the device's original operating system and essential software components. Users can use EFT Pro to create a secure copy of the CASPER VIA E30's stock ROM, preserving the device's factory settings and functionalities.
In case of any unforeseen issues, such as software glitches or the need for a system restore, having a backup of the stock ROM enables users to revert their device back to its original state effortlessly. The EFT Pro program offers users a reliable and convenient solution to safeguard and restore the core software components of their CASPER VIA E30 phone.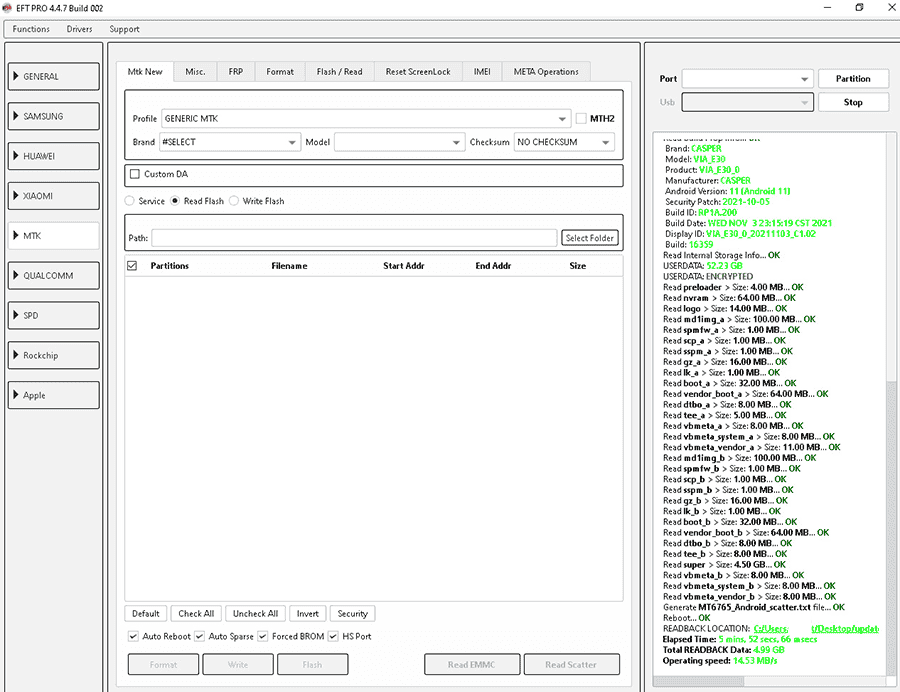 CASPER VIA E30 – MediaTek Helio G35 (MT6765G)
Casper VIA E30 is powered by the MediaTek Helio G35 (MT6765G) processor, providing a solid foundation for its performance. The MediaTek Helio G35 is a capable mobile processor designed for mid-range smartphones. Its octa-core ARM Cortex-A53 architecture and a clock speed of 2.3 GHz ensure smooth multitasking and efficient processing of everyday tasks.
The MediaTek Helio G35's integrated IMG PowerVR GE8320 GPU delivers reliable graphics performance, enhancing the overall gaming and multimedia experience on the Casper VIA E30. Whether playing graphics-intensive games or streaming high-definition videos, this processor ensures a responsive and immersive visual experience.
In addition, the MediaTek Helio G35's energy efficiency contributes to longer battery life, allowing users to enjoy their Casper VIA E30 for extended periods without worrying about frequent recharging. Its support for 4G LTE connectivity, dual SIM functionality, Wi-Fi, Bluetooth, and GPS further enhance the device's versatility.
With the combination of the MediaTek Helio G35 processor and Casper VIA E30's optimized software, users can expect a reliable and efficient performance that meets their daily mobile needs, from smooth multitasking to enjoyable gaming and multimedia experiences.
Notice
The downloaded stock ROM file has been backed up from a fully functional Casper E30 model, ensuring its smooth operation. However, it has not been tested by being installed on a different phone. The responsibility for installing this ROM file lies solely with the end user.
Download Link
CASPER_VIA_E30_VIA_E30 Rom Download
rar password : rootgsm.com