Service History Feature
Apple announced a new feature with the upcoming iOS 15.2 operating system. Thanks to the new update, users will be able to understand whether the spare part used in iPhone repair services is original or not.
Apple's operating system iOS 15, which was released about 2 months ago, was frequently the main topic of conversation with the bad experiences of many users. Apple continues to update the operating system for the solution of technical problems and a better user experience.
Apple announced a new feature called "iPhone Parts and Service History", which attracts attention with the new update iOS 15.2, which will be released next week.
Thanks to this update It will be possible to determine whether the spare part is original or not.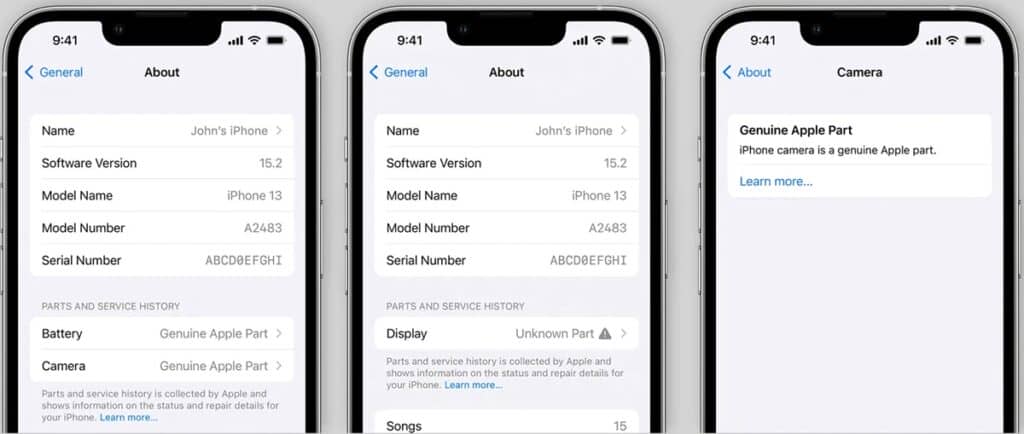 With the latest update to the operating system, Apple has announced a new feature that will display iPhone parts and service history. Thanks to the feature, parts, and service history of iPhones will be seen in iOS 15.2 and later versions. iPhone will analyze the components and alert about a service history other than Apple Repair Service. It is thought that the new feature, which will provide a more reliable service experience for users, will also affect repair prices.
If the service was performed using genuine Apple parts and tools, the part will be marked "Genuine Apple Part" next to it. If non-original parts were used during the repair; There will be an "Unknown Part" warning, which means the part was replaced with a non-genuine part, may have been used previously or was installed on another iPhone, or is not working as expected.
According to Apple's statement about which parts of which phones will be watched with iOS 15.2:
It will be possible to see if the battery has been replaced for iPhone XR, XS, XS Max and later models, including iPhone SE (2nd generation).
For iPhone 11 models, iPhone 12 models and iPhone 13 models, it will be possible to see if the battery or screen has been replaced.
For iPhone 12 models and iPhone 13 models, it will be possible to see if the battery, screen or camera has been replaced.
The feature can be accessed by going to Settings > General > About.
More information about iOs 15.2
Apple iPad Pro Features maybe interested.